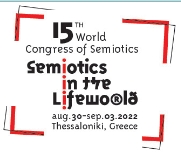 Με τρεις εισηγήσεις συμμετέχει το Τμήμα Επικοινωνίας, Μέσων και Πολιτισμού του Παντείου Πανεπιστημίου στο 15ο Παγκόσμιο Συνέδριο Σημειωτικής «Semiotics in the Lifeworld» που πραγματοποιείται από 29/8 μέχρι 3/9 στο Πανεπιστήμιο Μακεδονία, στη Θεσσαλονίκη.
Η Αναπληρώτρια Καθηγήτρια Ιωάννα Βώβου θα αναφερθεί στη σημειωτική διαπλοκή διαφορετικών ειδών στη σειρά Chernobyl της HBO, και την υποδοχή της από το ελληνικό κοινό, σε εισήγηση με τίτλο «Intergeneric oscillations: A semiotic of reception of the series Chernobyl».
Ο Καθηγητής Γιάννης Σκαρπέλος σε συνεργασία με τον υποψήφιο διδάκτορα Αλέξανδρο Ανεσιάδη και την Επίκουρη Καθηγήτρια του Universidad Autónoma de Baja California Νίκη-Αθηνά Πολυμέρη θα αναφερθούν στις αφίσες του heavy metal, με τίτλο «Caught somewhere in time: the evolution of concert promotion through a semiotic analysis of heavy metal posters».
Τέλος, ο Καθηγητής Γιάννης Σκαρπέλος σε συνεργασία με την υποψήφια διδάκτορα Σοφία Μεσσήνη θα αναλύσουν το οπτικό σύμπαν των αναφορών στη μετάλλαξη Omicron συνδέοντας τις εικόνες που αξιοποιούν οι χρήστες του Twitter με τα συναισθήματα που τις συνοδεύουν, σε εισήγηση με τίτλο «Of algorithms, emotions, images, and semiotics: The case of Covid pandemic». Πρόκειται για τα ευρήματα έρευνας με τίτλο Social and Emotional Responses to Pandemic Covid-19, που χρηματοδοτείται από το ΕΛΙΔΕΚ.