The Advertising and Public Relations Lab (#ADandPRLAB) has been operating since 1993 and has the vision to inspire and train future creative minds and talents in advertising, public relations, strategic design, and creativity, impact storytelling, digital innovation, and startup entrepreneurship with a positive impact. It combines an interdisciplinary approach by following international developments in technology and best practices in communication in the digital era.
ADandPRLAB cultivates a culture of intellectual and creative curiosity, experimentation, and collaboration in all aspects of academic, professional, and social life. Following an educational model of co-creation and through strategic collaborations with a wide network of experts from all spectrum of communication, business, startup ecosystem, digital media and immersive/mobile technologies, the students of ADandPRLAB have the opportunity to think and to pursue real issues and challenges and within the the framework of the UN Sustainable Development Goals.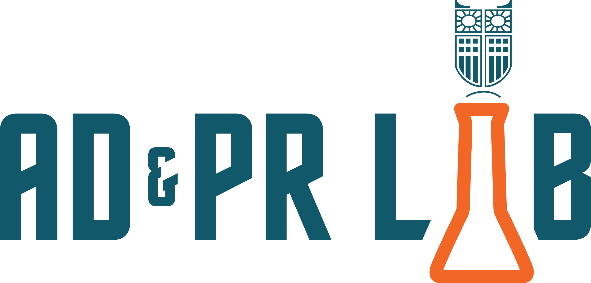 ADandPRLAB has developed a specialized team-coaching program with the aim of improving team collaboration and conflict management support through continuous coaching and mentoring in the teams of the lab.
ADandPRLAB's alumni are distinguished professionals in Greece and internationally in the fields of applied communication, marketing, digital media and content production or start their own young innovative startup ventures, often associated with technological and social innovation. Some alumni are pursuing academic and scholarly careers in Greece and internationally.
ADandPRLAB has developed international collaborations with academic institutions in the USA, Europe, Asia and Africa, initiating educational-research collaborations through Erasmus + the program, and in collaboration with embassies and institutions. In particular, partnerships have been developed with the Copenhagen Business School, CUNY Center for Entrepreneurial Journalism, Ohio University, Alberto Hurtado University, Chile, UCU, Uganda, Center for Journalism & Mass Communication Visva-Bharati, India.
ADandPRLAB's research activities cover a wide range of interconnected areas in the field of advertising, collaborative consumption, and new digital consumption trends, crisis management, neuro-leadership, social media, startup entrepreneurship, collaborative values , and sharing practices with Mobile Generation Next research project. ADandPRLAB participated in the European Young Leaders program: Developing and Enhancing Leadership Skills for Young Managers in Times of Crisis.
ADandPRLAB implements and participates in community outreach initiatives and networks with a focus on startup, digital and social innovation by organizing Startup Weekends, co-creation and design thinking workshops, crisis management simulations, participating in Greek and international communication and entrepreneurship competitions.
ADandPRLAB is a member of the mobile cluster of The Hellenic Association of Mobile Applications Companies (ΣΕΚΕΕ-HAMAC) and has participated in the official Greek delegation at the Mobile World Congress between 2013-2016 in Barcelona. ADandPRLAB has signed memoranda of cooperation with: Antenna Music, member of Antenna Group (2018) Velocity Partners VC (2019) and Digital Communication Network SEE (2020).